In the first of its kind, the Royal Commission of Inquiry into Abuse in Care began its Pacific Investigation hearing 'Tulou – Our Pacific Voices: Tatala e Pulonga'. Today marked the beginning of a two week hearing held at the Fale o Samoa in Māngere, Auckland, where the Commissioners will hear statements and evidence from experts and victims as part of the nationwide inquiry that looks into what happened to children, young people, and vulnerable adults in State and faith-based care in Aotearoa New Zealand between the years 1950-99.
Commissioners Judge Coral Shaw, Ali'imuamua Sandra Alofivae, Dr. Andrew Erueti, and Julia Steenson will hear statements from Pasifika experts and statements from Pasifika victims over the next two weeks. A specific focus is on Māori, Pacific People, and people with disabilities.
In her opening statement on day one, Lead Counsel Assist of the Pacific investigation, Tania Sharkey acknowledged not only the Pacific survivors who attended the hearing and those who will share their statements, but those who have passed on and those who have yet to come forward. Miss Sharkey says the experience of Pacific people in care in New Zealand is framed by the context of the overall experience of Pacific peoples in this country.
She highlights the first big wave of migrants from the Pacific that began in the 1950's. The New Zealand government and industry turned to the Pacific for workers and actively encouraged Pacific people to come and meet the demands for unskilled labour in order to support and grow New Zealand's economy.
Miss Sharkey says despite that encouragement, Pacific people experienced discrimination as immigrants when compared with how Palagi immigrants were treated.
There was a general preference for Palagi immigrants and that preference explicitly enshrined in government policy until the mid 1970's.  What research shows is that as a non Palagi immigrant community, Pacific peoples have been consistently marginalised discriminated against and trapped in cycles of socio economic deprivation.
Lead Counsel Assist for the Pacific investigation Tania Sharkey
She says Tulou – Our Pacific Voices: Tatala e Pulonga describes what this hearing will do, "the revealing, the peeling back, the lifting of the darkness, which in the context of this hearing, which is to make public the experiences of abuse suffered by Pacific Peoples in state and or faith based care and to also prompt a serious discussion of where to from here for Pacific Peoples in care in Aotearoa."
In her opening statement, Associate Professor Hon. Luamanuvao Dame Winnie Laban says, she "hoped the Royal Commission of Inquiry into Abuse in Care, would provide an opportunity for Pacific Peoples to tell their stories, to be heard and to be understood, and that we build a path grounded in our Pacific cultures and communities leading to wards' hope, healing, and reconciliation."
Luamanuvao reflected on her own personal journey and shared the journey of her parents to New Zealand in the 1950s and settling in Wainuiomata, in Wellington. She talked about the importance of knowing and understanding of one's history. "To quote Bob Marley, if you don't know your history you don't know where your coming from."
Aotearoa New Zealand is a Pacific nation. Its indigenous people are related to Polynesia and the rest of the region, and I've always prayed and hoped many of our people in Aotearoa New Zealand would embrace the Pacific identity in a much more familiar way, that builds on that historical connection and our navigators that paddled that ocean, the biggest ocean in the world, for connection, but also for a better life.
Luamanuvao Dame Winnie Laban
The country's first female Pacific member of Parliament and first female Minister for Pacific People says, "Pacific history is not taught in schools in New Zealand and that almost feeds an ignorance and non-understanding of our journey." She believes Pacific history will benefit not only Pasifika children but says all children in New Zealand should be growing up learning not only Māori history but also Pacific.
She says while there is a tendency to view Pacific Islanders as recent immigrants, and that English is their second language, it is not an accurate picture. According to Census (2018), Pacific Peoples constituted 8.1% of NZ's total population. 381,642 individuals up from 295,941 (7.4%) from the 2013 census.
• 60% of Pacific People living in New Zealand are NZ-born.
• 20% of Pacific People are in the age bracket 15 — 24 years.
• 60% of Pacific People are under 30 years of age.
• Pacific People are the major ethnic group in New Zealand with the highest population of children (0-14) at 35.79%.
Luamanvao says, "most Pacific people living in New Zealand were born here, they're young, and English is their first language. The Pacific Island population is fast- growing, and it is absolutely critical we address the demographics now, not tomorrow, but now."
Fa'amoana Luafutu from the villages of Satalo, Falealii, and Poutasi was 6 years old when, along with his three siblings, his family migrated to New Zealand. Fa'amoana recalls coming to New Zealand, "it looked really pretty from the plane."
The dream of a better life, like all migrants. But for me, myself, I was quite happy in my ignorance, I was quite happy as a little kid in my village. I knew everyone, I knew all my friends, I felt quite safe there.
Fa'amoana Luafutu
Sadly for Fa'amoana he found himself before the Children's Board and in state care. Fa'amoana spoke about his experience at the Owairaka Boys' Home in Auckland and of the abuse in state care. The playwright and author has used his creative talents and skills to share his lived experience during these times.
In his opening statement Fa'amoana says, "I always considered myself to be like a taro shoot trying to grow in the snow — it can never happen you know."
I used to go with my grandpa and my father sometimes to the plantation. The
Tiapula
is a taro shoot…and you put the taro shoot in and it grows and becomes a taro. I just felt that the cold attitude that I felt as a kid in a boys' home, and that I related that back to a
Tiapula
being grown in snow, and it could never happen because it can only grow in warm loving, caring, place, environment. I felt that this place was really cold for a
Tiapula
like me to grow to a taro.
Fa'amoana Luafutu
In emotional scenes this afternoon, the first Pacific island female District Court Judge appointed more than 20 years ago, Ida Malosi paid tribute to Fa'amoana.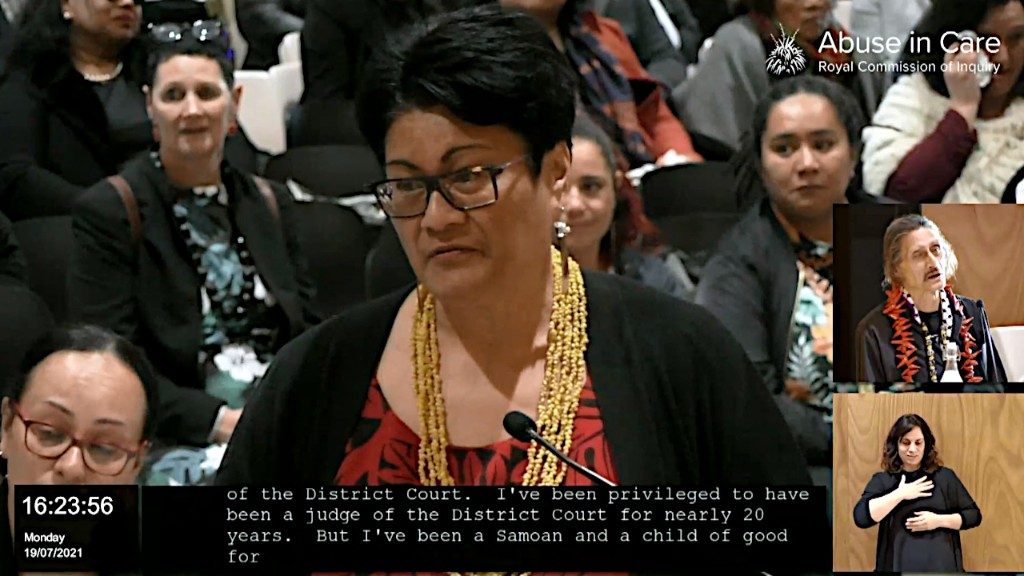 On behalf of all of our people, all of our community, I claim you…  The lesson in me standing at this time for the Commission is that sometimes in this process the right thing has to be done, which is not part of the process. So I stand for us. I stand for the might of our people, and I honour you I honour you.
Judge Ida Malosi
Over 100 Pacific survivors are registered with the Royal Commission. Of the survivors the majority are from Samoa and the Cook Islands, Tonga, Fiji, Niue and Tokelau. Day two of the Pacific investigation hearing continues. The hearing will run from 19-30 July.
Image credit: Abuse in Care Royal Commission of Inquiry