Hamilton City has honoured five of its most exceptional citizens in a special ceremony conferring upon them the city's most prestigious awards. Well-known Pasifika leader in the Waikato, Leaupepe Elisapeta Karalus alongside her husband respiratory specialist Dr. Noel Karalus were both presented with Hamilton City Council's Freedom Holder of the City Award.
Mayor Paula Southgate says, for a range of reasons including COVID-19, the city has been unable to properly honour these exceptional individuals until now. "So to have five wonderful Hamiltonians in the room, along with their friends and family, and to see their achievements recognised and honoured was very, very special."
Leaupepe, a trained nurse, worked at Waikato Hospital. Over the years Peta completed a bachelor's and a master's degree and tutored nursing at Wintec.
In 1999, Leaupepe was tired of seeing poor health statistics for Pacific people and created 'K'aute Pasifika'. This Trust provides a range of services to Pacific peoples, or 'Pasifika', and other disadvantaged groups in the Waikato region, aimed at improving their wellbeing.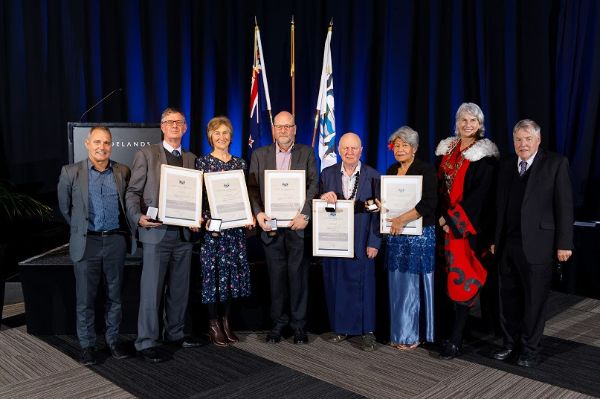 She led the organisation for 18 years before handing the reins over to her daughter, Rachel Karalus. The trust now provides health, social, and education services to more than 4000 Pasifika around Hamilton.
Leaupepe's other achievements include leading the creation of the Aere Tai Regional Collective and Network. This organisation links Pasifika providers from Tauranga to Taranaki, as well as the education-focused Pasifika 'PowerUP Plus' programme.
Image credit: Hamilton City Council, Wintec