Watch the podcast video on YouTube
Or listen to the podcast on Spotify
Main Article
The Director of Climate Change Resilience for the Secretariat of the Pacific Regional Environment Programme (SPREP) says the Pacific Island Nations' voice was heard loud and clear at the the two week Climate change summit COP26 in Glasgow Scotland earlier this month. Tagaloa Cooper says despite the small number of delegates from the Pacific Island Nations who were able to travel to Glasgow due to COVID-19 restrictions, the Pacific made an impact.
Speaking to Pasifika Wire from MIQ in Auckland after returning from COP6 last week, Tagaloa reflects on the summit and what it means for the Pacific and the work ahead for Pacific nations in the fight against climate change and for climate justice.
Tagaloa says those on the ground in Glasgow representing the Pacific had to work harder to make the right noise in the right place, raising the profile and amplifying the voice of the Pacific. She says the Pacific came hard and strong on their call to keep the goal of limiting global warming to 1.5C above pre-industrial levels. Campaigns such as the Tiktok Flex for 1.5 Challenge that gained more than 20 million views was one example of how the Pacific drew attention to the impact climate change is having on small island states in the Pacific.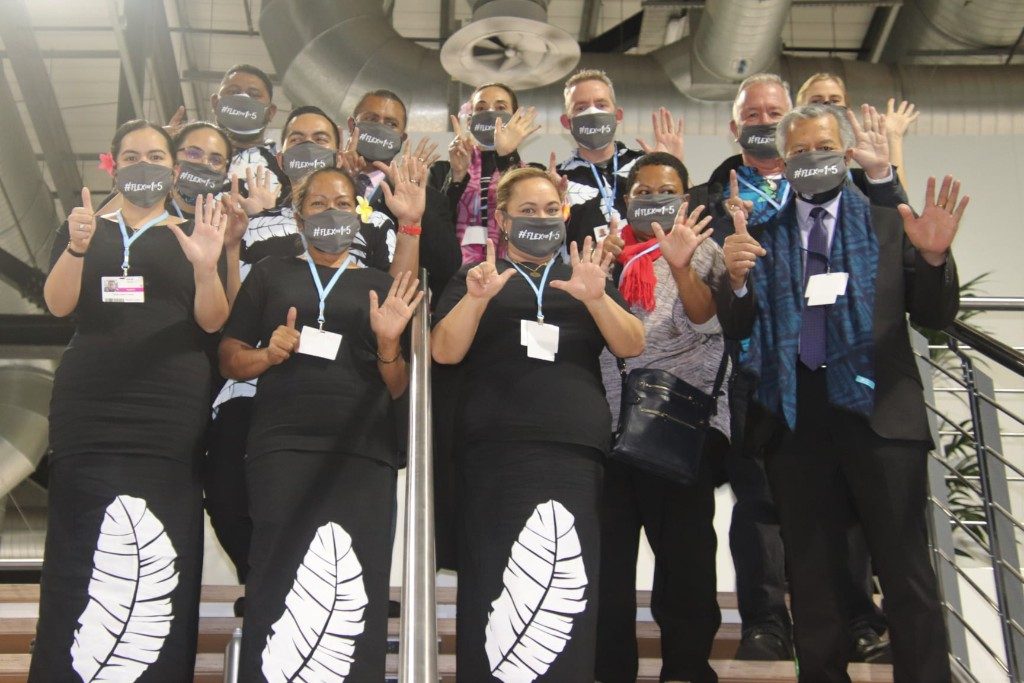 COP26 was touted as the last chance to save the world from climate disaster, in particular from Small Island States including the Pacific, who face the impact of climate damage. With negotiations going down to the wire in the final hours of the summit, commentators and observers labelled the summit as not going far enough to reduce emissions and the overall outcome being disappointing.
However Tagaloa shared her observations and says COP26 was not a failure. "I would have to disagree with that because there was movement on things that the Pacific prioritised that happened."
She notes that towards the end of the day in the very last moments it could have been a very different outcome had India not pressed for the text to be revisited in the negotiations. India and China opposed a commitment to "phase out" coal. After tense scenes at the summit countries agreed to "phase down" coal, causing disappointment and concern over whether the world can limit the average global temperature rise to 1.5C.
Tagaloa believes the opinion that the summit had failed was because of the change in language, and because of this, it was what people held on to and made them feel that it was a complete failure. Despite this belief, Tagaloa says the summit cannot be viewed as a complete failure.
"That's the nature of negotiations if that had not happened we would have come away with Glasgow being a great success similar to the success that was in Paris where you had high ambitions where countries came together to lobby for higher ambition."
As part of the COP26 Glasgow Climate Pact, 151 countries have submitted new plans for Nationally Determined Contributions (NDCs) to cut their emissions by 2030. Tagaloa says on a positive note they have come away from Glasgow knowing that countries now agree to revisit and strengthen their ambitions.
"Before it was every five years and now they have to revisit their pledges by the end of 2022, and that's a big deal. It's better than waiting five years. And that shows that there is intention or a willingness by political leaders to ratchet ambition by simply revisiting their NDCs more regularly than the five years that was agreed to in Paris. So you cannot not call that a failure."
Climate finance is a key priority for Pacific nations. Tagaloa says the agreement to double the commitment on adaptation within the US $100 billion annual target of 2021-2025 is a welcomed step by Pacific Small Island Developing States. In 2009, developed nations agreed to provide US $100 billion per year to help developing countries mitigate and adapt to climate change, however this target was not met, reaching only US $80 billion in 2019.
Tagaloa says there were a mixed bag of wins and losses for the Pacific. While there is a commitment to dedicated finance for Adaptation and Mitigation,  there was unfortunately no specified finance for Loss and Damage.
Another good outcome was the Paris rule book on Article 6 which Tagaloa says was finalised. As explained by journalist Nina Chestney, 'Article 6 of the Paris agreement aims to set rules to strengthen the integrity of carbon markets and create a new global carbon offsetting mechanism. Countries that struggle to meet their emissions reduction targets in their national climate plans, or want to pursue less expensive emissions cuts, can purchase emissions reductions from other nations that have cut their emissions more than the amount they had pledged, such as by moving to low-carbon energy. For example, one country could pay another to build a renewable energy project instead of a coal plant. This would reduce emissions but allow the second country to get the benefits from cleaner energy.'
Tagaloa says by-in-large there were good things that came out of COP26 for the Pacific. She was pleased there was a lot more discussion around Oceans embedded into this process. "Because for us, as ocean people, like all of the Alliance Of Small Island States (AOSIS), how can we talk about climate change and not talk about our Ocean, and our own dependency on it?"
Pasifika Climate Change Youth Champions also played an important role at COP26. Tagaloa says it was empowering to see the next generation take their place in the work of climate change.
It's quite empowering knowing that they are already negotiators, but knowing that when they take their place at the table, when these negotiators move on, their training ground has been the actual COP. Quite different to my time where at that age we didn't have that type of access or platform.
SPREP Director Climate Change Resilience Tagaloa Cooper
With the conclusion of COP26, Tagaloa says the work continues as they start preparing by May 2022, for the next COP summit to be held in Egypt. "We have to do the Post COP Analysis and unpack it all. What does it mean for the Pacific? In the end we're guided by our countries' priorities. Our job at SPREP is to support them."
As the work to highlight the impact of Climate Change in the Pacific and across the globe, Tagaloa says we all have a part to play.
Climate change is your responsibility, just as it is mine, and it affects everybody, everybody on this planet because we are a global family. The Pacific takes it seriously because our lives depend on how seriously the global family and everybody else takes this.
SPREP Director Climate Change Resilience Tagaloa Cooper
Tagaloa says the Pacific voice is strong and we need to understand the impacts of Climate Change and utilise our voice in any space to advocate for greater ambition, for unity, around these issues.
If you are a Pacific person you owe it to yourself because you cannot separate being a Pacific Island person in this country (NZ) from your roots from the countries that we come from because everybody is connected back to the home-ground and I think if everyone takes that responsibility towards climate change as a collective then our voices are stronger and you know, the Pacific, we see ourselves as one voice not voices, so many voices makes that one big voice, and that is who we are.
SPREP Director Climate Change Resilience Tagaloa Cooper
#COP26 #COP26Glasgow
Featured Image Credit: SPREP Secretariat of the Pacific Regional Environment Programme