Thousands are expected to descend into the Capital this weekend for the annual Wellington Pasifika Festival. Wellington City Council Creative Events Producer Suzanne Tamaki says she is proud that Wellington is first off the ranks to host their festival, despite the global pandemic COVID-19.
2020, it's been a difficult year, not just for our communities but for the world and the fact that we're able to have a festival is really exciting and its nice to be able to have the opportunity to bring all these communities together.
Suzanne Tamaki
Safety measures have been put in place for the festival. Suzanne says they have put in extra layers of protection and brought a specialist on board to help keep the community as well as the performers and people involved with the running of the event safe.
Suzanne encourages festival goers to come prepared and a reminder to use the COVID tracing app to check in. People are encouraged to stay home if they are not feeling well on the day. Hand sanitiser stations will be on site and reminders will appear on screen for festival goers to sign in. "I think all New Zealanders in general are pretty good and know what to do, and we will have ambassadors on the day as well down there just reminding people to stay safe."
Suzanne says the free six hour event will have something for everyone, including a Pacific Cuisine Cook Off. Food stall holders will be asked to give their favourite dish and a special panel of judges including comedian James Nokise, Labour MP for Rongotai and Minister for Pacific Peoples Aupito William Sio are expected to judge the cuisine and choose the first winner for the Pacific Cuisine Cook Off for 2021.  
She encourages people to come down and be part of the celebrations. "I think there's going to be a huge turn out by community, not just from the Pacific, but a big wider regional community who just love Pacific and want to be part of it. It's a really proud moment for Wellington and Wellington City Council."
The annual event continues to grow and Suzanne has seen an increase of visitors from across the country. Stall holders from Hastings will be taking part and while it is great to see people from outside the region there is a particular focus on Wellington communities and Wellington groups, she says. "We want to help support those Pacific communities that have been affected by COVID, a lot of people have gone out of business or are struggling so we're not charging for stalls. We just want them to come down and try make some money for their communities and for their churches."
'He Waka Eke Noa' we are all in this together. So let's come together in a way to celebrate that. We are all people of the Pacific and we are all here to support each other.
Suzanne Tamaki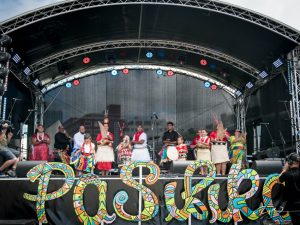 Image: Wellington City Council
More information about the Wellington Pasifika Festival can be found here.
For guidance about protecting yoursel f from COVID-19, please visit: covid19.govt.nz